A collection of beautiful pyrite and slate stone jewelry set in sterling silver, each with yellow gold accents – a design as unique as the stones themselves.
Sterling Silver Mesh Bracelet with Pyrite and Slate
A Sterling Silver mesh bracelet is 6″ by 1 1/2″ side, and has a row of 3 Pyrite and Slate square stones set with 18k Yellow Gold bar accents.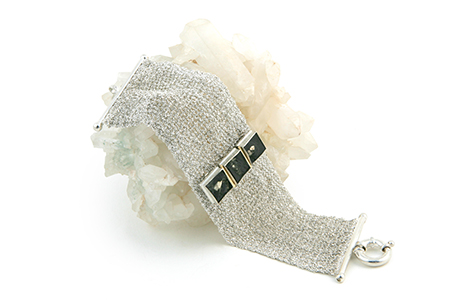 Pyrite and Slate Cuff Bracelet
The raw beauty of the Pyrite and Slate stone is boldly expressed in this asymmetrical Sterling Silver cuff accented with 18k yellow gold.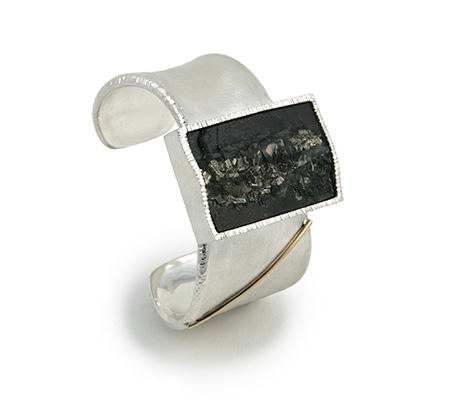 Petite Pyrite and Slate Necklace
A Pyrite and Slate stone is set in a Sterling Silver bezel. Linking the chain to the pendant is a sterling bar and 18k Yellow Gold sphere.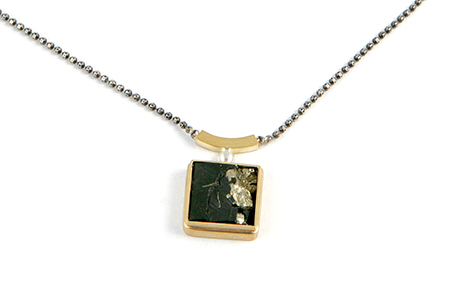 Pyrite & Slate Ring series in Sterling Silver bezels
These rings feature Pyrite and Slate stones set in Sterling Silver bezels with 18k Yellow Gold accent bars in various square or rectangular shapes. Just like the Drusy Series ring tops, select your top then pick a ring shank style and size to create a unique, customizable ring!